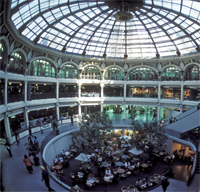 Follow latest trends in Historic Preservation with the National Park Service content dealing with the National Register.
News From The National Register Website-Preservation Nation
Remembering Tony Goldman: Developer, Entrepreneur, and Ardent Preservationist
Most people are considered successful if they excel in even one area. Tony Goldman excelled in many: historic property developer, restaurateur, hotelier, and a leader in the historic preservation movement.
Goldman, who passed away in New York City on Tuesday, was a current board member of the National Trust Community Investment Corporation and a former Trustee of the National Trust for Historic Preservation. For 40 years, he recognized the potential of depressed, undervalued urban areas, and through thoughtful, preservation-sensitive approaches, reconstructed and transformed declining historic districts into popular, thriving global destinations.
A true visionary, Goldman has been acknowledged as one of the pioneers of New York's Upper West Side resurgence and the driving force behind the transformations of New York City's Wall Street Financial District and SoHo neighborhoods; Center City in Philadelphia; South Beach in Miami Beach; and most recently, undertaking the transformation of the warehouse districts in Miami's Wynwood and Downtown Boston.
Through it all, Goldman was committed to revitalizing and creating mixed-use, pedestrian-based, urban neighborhoods that enhanced an authentic sense of place. For this commitment, as well as the breadth of his work, the National Trust honored Goldman in 2010 with the Louise duPont Crowninshield Award, the highest national award for excellence in historic preservation.
In her statement on Goldman's passing, National Trust President Stephanie Meeks said: "At its core, preservation is about recognizing the value of historic buildings and neighborhoods, and restoring life to places that define and enrich our communities. That is what Tony Goldman did, and nobody did it better. And though he will be deeply missed, we are grateful for his many contributions to historic preservation and his lasting legacy of transformed communities."
Learn more about Goldman's preservation work and watch a short video here.

http://www.preservationnation.org/

http://www.preservationnation.org/magazine/

http://blog.preservationnation.org/

For more information, please contact us.