BrainWave supports conservation, restoration, preservation and adaptive re-use of commercial and residential structures:
Evaluation for Tax Credit Eligibility
Preservation of Structures
Preservation, Rehabilitation, Restoration and Reconstruction
Adaptive Reuse Consultation
Preservation of Landscapes
Nominations to the National Register
Tax Credit Application Preparation
Survey for Historic District Nomination
Economic Development of Historic Assets
Redevelopment of Historic Districts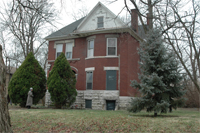 Most communities in Ohio do not have CLG status, and are at a disadvantage when attempting to encourage Historic Restoration developments
Historic Eligibility Surveys
At Brainwave we can undertake to survey your City, Town, Township, Village or County to inventory for possible and potentially eligible properties and indicate the scope of opportunity. Many Counties in Ohio are completely unrepresented by CLG Membership and are at a substantial disadvantage to Cleveland, Columbus and Cincinnati. We can help to fix that and get you up to par with the big citys.

Resources and Information
For information on the Historic Opportunity in the following counties, contact us at BrainWave Historic Consulting
Williams County
Fulton County
Lucas County
Ottawa County
Erie County
Sandusky County
Wood County
Henry County
Defiance County
Paulding County
Putnam County
Hancock County
Seneca County
Huron County
Ashland County
Richland County
Crawford County
Wyandot County
Van Wert County
Allen County
Hardin County
Marion County
Morrow County
Deleware County
Union County
Logan County
Auglaize County
Mercer County
Darke County
Shelby County
Miami County
Champaign County
Madison County
Clark County
Preble County
Montgomery County
Greene County
Fayette County
Butler County
Warren County
Clinton County
Ross County
Pike County
Scioto County
Adams County
Brown County
Highland County
Clermont County
Hamilton County

For more infomation regarding Historic Eligibility Surveys, please contact us.