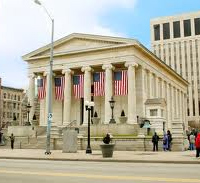 Caption here.
News and Important Links in Historic Preservation
SHPO: (Ohio State Historic Preservation Office)

National Trust Names Village of Zoar An Endangered Place
The National Trust for Historic Preservation has named the village of Zoar to its 2012 list of America's 11 Most Endangered Historic Places.

The list spotlights important examples of the nation's architectural, cultural and natural heritage that are at risk of destruction or irreparable damage.
A National Spotlight
"This distinction will focus a national spotlight on the village of Zoar. It will become clear that without action this unique historic village is at grave risk," says Jon Elsasser, president of Zoar Community Association and a trustee of the Ohio Historical Society.

The village was founded in 1817 by a group of religious separatists who fled from their native Germany to a fertile spot along the Tuscarawas River in east central Ohio. The river that provided much of their livelihood and prosperity now threatens to wash Zoar away.

A levee built in the 1930s has kept water from the Tuscarawas River away from the village for decades, but record floods in 2005 raised concerns about the levee's integrity. The Army Corps of Engineers has initiated a three-year study to assess the levee's future.
More
National Historic Register News:
text
National park Service News:
text
This Old House:
text
Old House Journal:
Text
Links and Resources to other Preservation News Sources

For more information, please contact us.